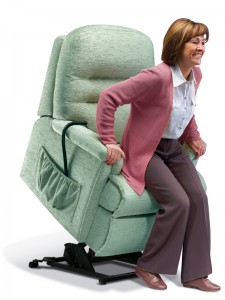 Scott LRK Lift and Rise Recliner.
Our Lift Chairs (or Lift and Rise Recliners) are available in petite, small  standard and large sizes & as single or dual motors with battery back up.
Available with standard chairs, manual & electric recliners & 2 & 3 seater settees also in manual & electric reclining versions to complement the range so the lift & rise chairs can blend in with the suite.
Model LRK in Green.
Dimensions
Standard
| | inches | cm |
| --- | --- | --- |
| Overall Height | 41 1/2 | 105.41 |
| Overall Width | 32 1/2 | 82.55 |
| Overall Depth | 38 1/2 | 97.79 |
| Seat Height | 19 1/2 | 49.53 |
| Seat Width | 18 1/2 | 46.99 |
| Seat Depth | 21 1/2 | 54.61 |
Small
| | inches | cm |
| --- | --- | --- |
| Overall Height | 40 1/2 | 102.87 |
| Overall Width | 31 1/2 | 80.01 |
| Overall Depth | 37 1/2 | 95.25 |
| Seat Height | 19 1/2 | 49.53 |
| Seat Width | 17 1/2 | 44.45 |
| Seat Depth | 20 1/2 | 52.07 |
Petite
| | inches | cm |
| --- | --- | --- |
| Overall Height | 39 1/2 | 100.33 |
| Overall Width | 31 | 78.74 |
| Overall Depth | 35 1/2 | 90.17 |
| Seat Height | 18 | 45.72 |
| Seat Width | 17 1/2 | 44.45 |
| Seat Depth | 19 1/2 | 49.53 |
Royale
| | inches | cm |
| --- | --- | --- |
| Overall Height | 43 | 109.22 |
| Overall Width | 35 1/2 | 90.17 |
| Overall Depth | 39 1/2 | 100.33 |
| Seat Height | 19 1/2 | 49.53 |
| Seat Width | 20 1/2 | 52.07 |
| Seat Depth | 22 | 55.88 |