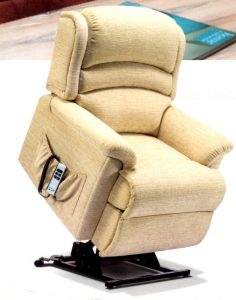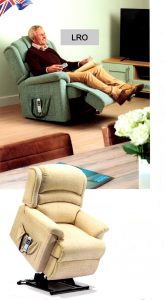 Scott Lift and Rise recliner model LRO.
This model is available in small & standard size & with single or dual motor, with battery back up.
Available with standard chairs, manual & electric recliners & 2 & 3 seater settees also in manual & electric reclining versions to complement the range so the lift & rise chairs can blend in with the suite.
Dimensions
Standard
| | inches | cm |
| --- | --- | --- |
| Overall Height | 41 1/2 | 105.5 |
| Overall Width | 37 | 94 |
| Overall Depth | 39 | 99 |
| Seat Height | 19 1/2 | 49 |
| Seat Width | 19 | 48 |
| Seat Depth | 21 1/2 | 54.5 |
Small
| | inches | cm |
| --- | --- | --- |
| Overall Height | 40 1/2 | 103 |
| Overall Width | 34 1/2 | 87 |
| Overall Depth | 37 1/2 | 95 |
| Seat Height | 19 1/2 | 49 |
| Seat Width | 18 | 45.5 |
| Seat Depth | 20 1/2 | 52 |