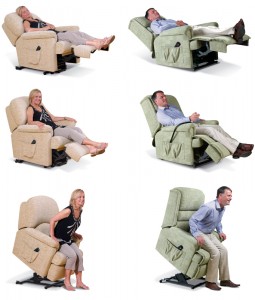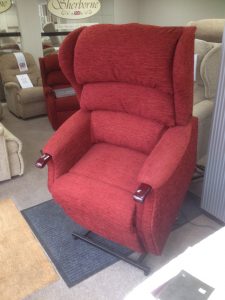 Lift and Rise Recliners can be adjusted to exactly the right position for comfort while sitting, relaxing with feet up and help to get in and out of the chair.
We offer a large range of lift and rise recliners to suit all sizes. There is always a good range of chairs on display in our showroom in various sizes.
Ex-display and reconditioned models also available.
Riser recliners chairs are VAT exempt. The end user only has to sign a self declaration to state they are chronically ill or permanently disabled with conditions such as arthritis, rheumatism, heart condition or other mobility restriction. You do not have to be registered disabled. The form is supplied by us, the retailer.
The riser action is gentle and smooth and can be stopped at any point to assist the occupant to rise effortlessly from the chair. This function is also very useful to avoid the need for a carer to lift the occupant from the sitting position.
The footrest can be raised to any desired position and lowered by simply pressing a button.
The backrest can be adjusted to any angle also by simply pressing a button.
A massage system and lumbar heat pad can also be built into some models.
Wide choice of fabric or leathers.
Standard chairs and 2 or 3 seater settees also available to compliment these chairs so they can blend in and be part of a suite.
We also offer a repair service and carry spare parts, we even clean upholstery, curtains and carpets.
Riser recliners are available in standard, petite, small  and large/grande sizes and as single or dual motors with battery back up, heat & massage pads if required.